Review by Auntie Reviews
The term affiliate marketing in Malaysia may not be well-known, and perhaps only 10% – 30% of Malaysian really understand it. Don't worry, we will show you what affiliate marketing is and how to make money online in Malaysia as some passive income. Today, we going to discuss about make money from ACCESSTRADE Malaysia.
In simple term, the affiliate marketing means merchants are paid commission to an external website once sales generated or traffic from its referrals.
What is the affiliate program in Malaysia?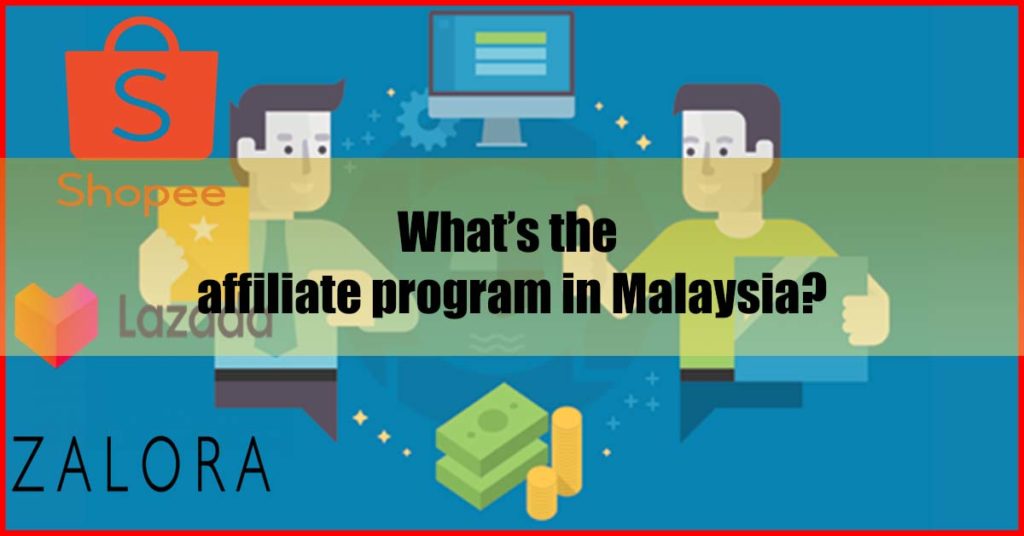 Amazon is a very well-known affiliate program. In fact, there are some well-known affiliate program in Malaysia including the following:
SHOPEE Affiliate Program
LAZADA Affiliate Program
ZALORA Affiliate Program
Check out this 10 best affiliate program in Malaysia.
However, we know that applying directly to the merchant for the affiliate program is very cumbersome and will even be rejected in most cases. At the moment, the best bet is to go with an affiliate network such as ACCESSTRADE or Involve Asia etc… Affiliate networks are platforms that act as a middle man between the publisher (the affiliate) and the advertiser (the merchant).
What is ACCESSTRADE?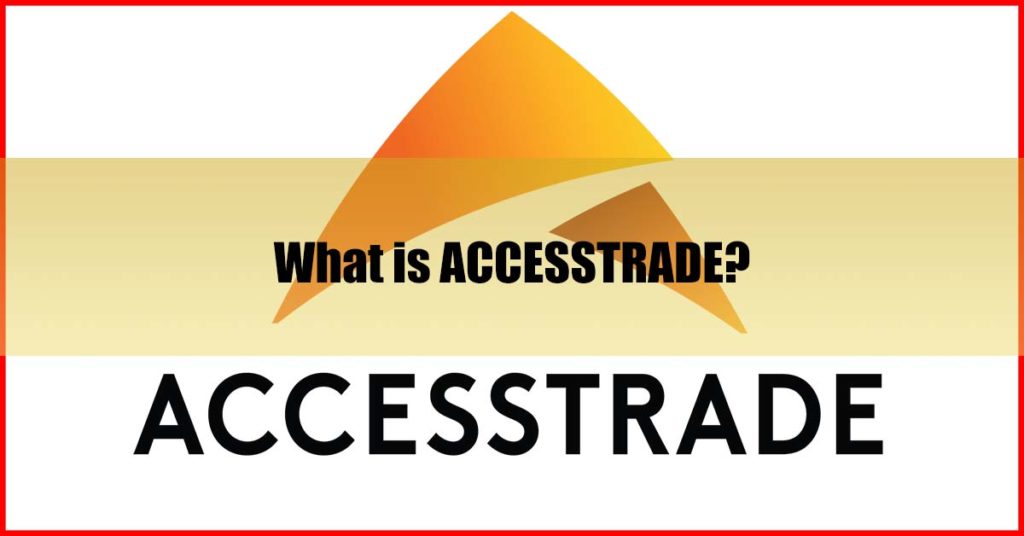 According to ACCESSTRADE, it is the largest CPA affiliate marketing network in Japan and Southeastern Asia operated by Interspace Co,.Ltd. since 1999 and now operating in Malaysia, Singapore, Thailand, Vietnam, Indonesia, and Japan. ACCESSTRADE MALAYSIA was officially launched in Malaysia in 2018.
The core value of ACCESSTRADE is the local network in each country connected with over 15.6k affiliate campaigns and 1.1million publishers. So that mean brands like LAZADA, SHOPEE, ZALORA, ADIDAS etc. are all included.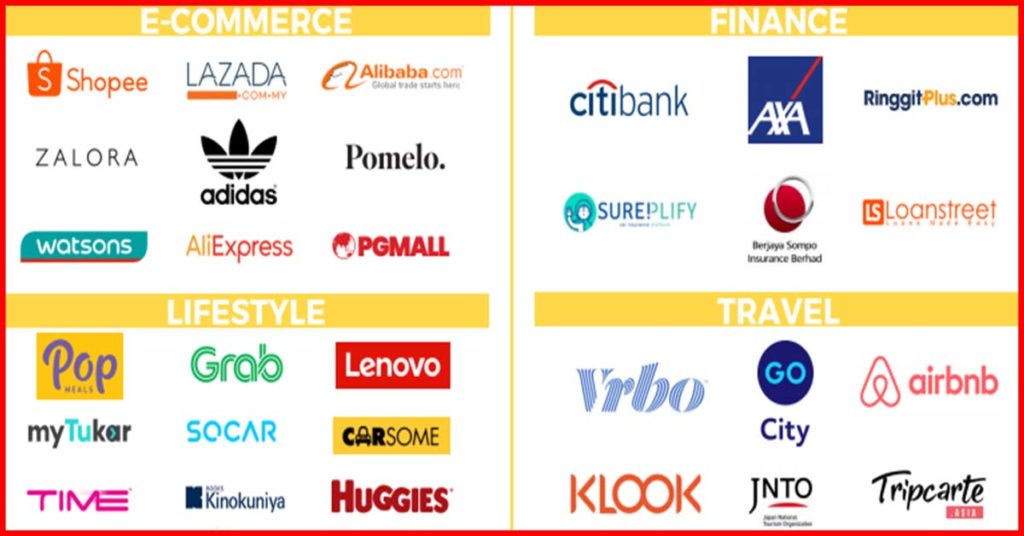 How to apply ACCESSTRADE?
Compared with applying directly to the merchant for the affiliate program, ACCESSTRADE is very easy to get approval almost immediately. Meanwhile, most of the campaigns you apply for within ACCESSTRADE Malaysia will be approved almost immediately, so you can get links or banner ads, and then start online promotions and make money. Below are the guideline to show you to how apply:
To begin, just sign up using this link https://publisher.accesstrade.global/#/sign-up
Sign up as Individual Or Corporation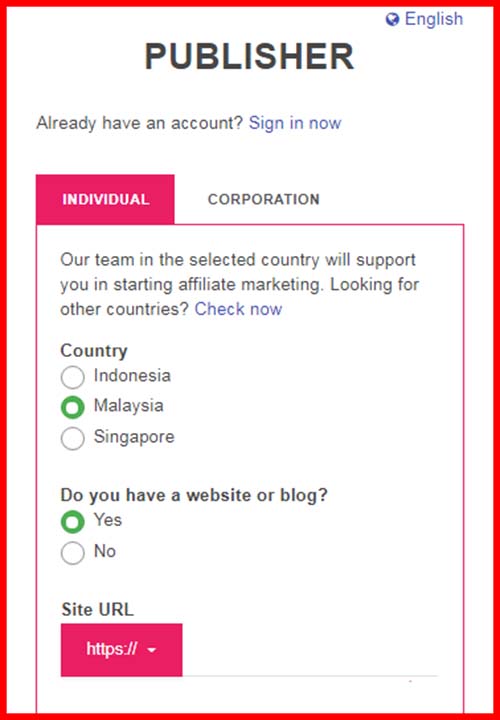 For site URL, you can fill your website link or either social media profile URL link.
Fill out the rest of the form.
After your account is approved and activated, you can then access to your ACCESSTRADE dashboard like below: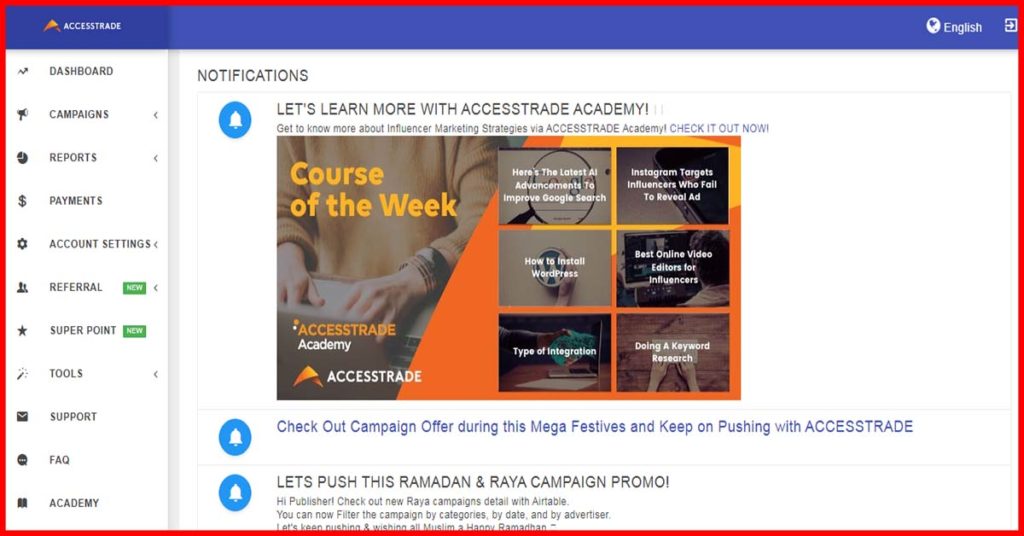 Applying to Campaigns You Want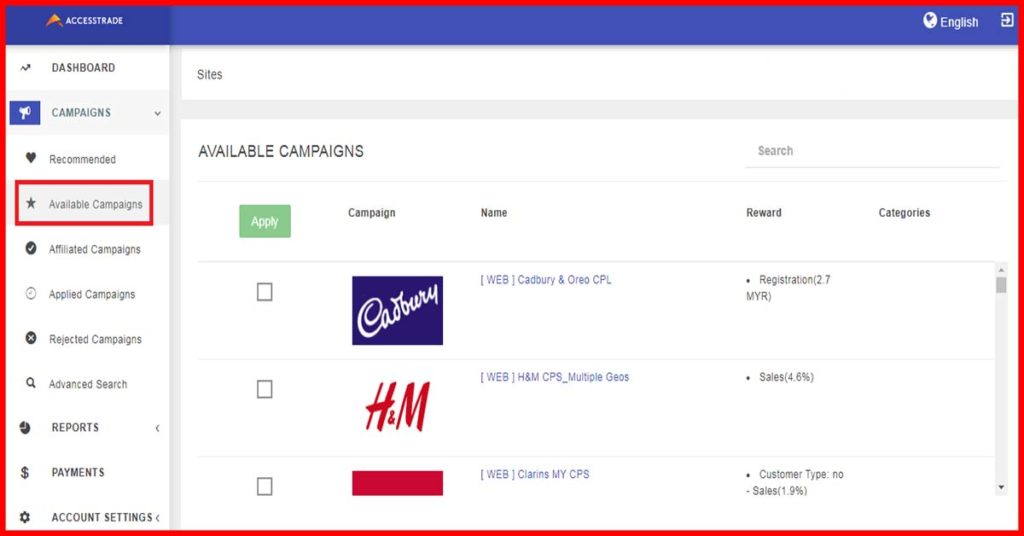 You can start applying to available campaigns by clicking the menu on the left, under "Available Campaigns", and use the search function at any time to narrow down your preferences.
After you apply, those affiliated campaigns will be found under the "Affiliated Campaigns".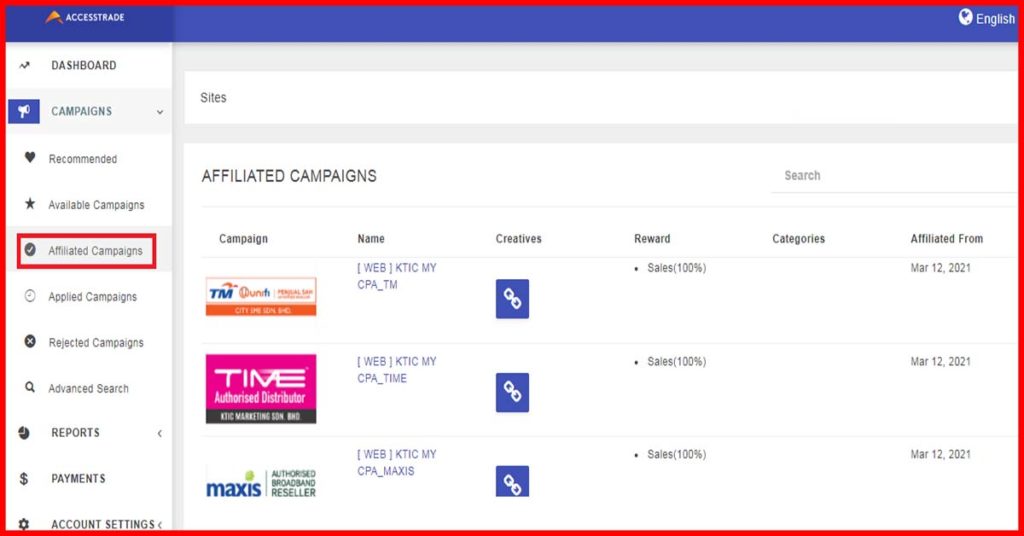 Start Promoting Your Affiliate Link
Now you can start your promotion by getting your personal referral link under the "Affiliated Campaign" section as follows: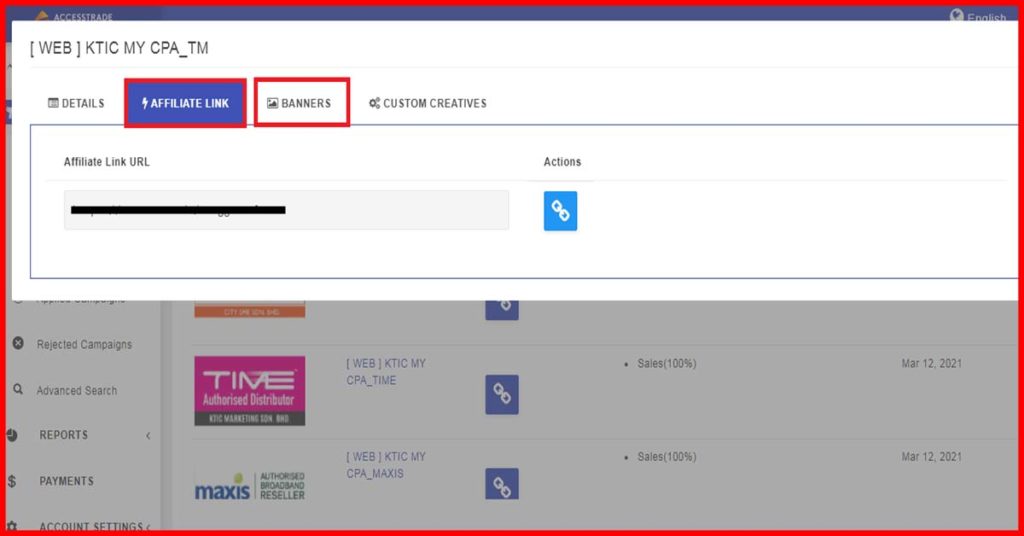 No worry, you will get approval easily. When someone clicks on your referral link and makes a purchase, you will receive a commission.
BONUS: ACCESSTRADE Gives Commissions Up To Total of 2,250 MYR
You invite people to join ACCESSTRADE Malaysia.
As long as they successfully get a Click, they will get 5 MYR.
Click means as long as anyone clicks on your affiliate link once.
Conversion: The merchant successfully get a deal.
So remember to join, now you can start sharing with friends around!
Below is the commission distribution for this activity: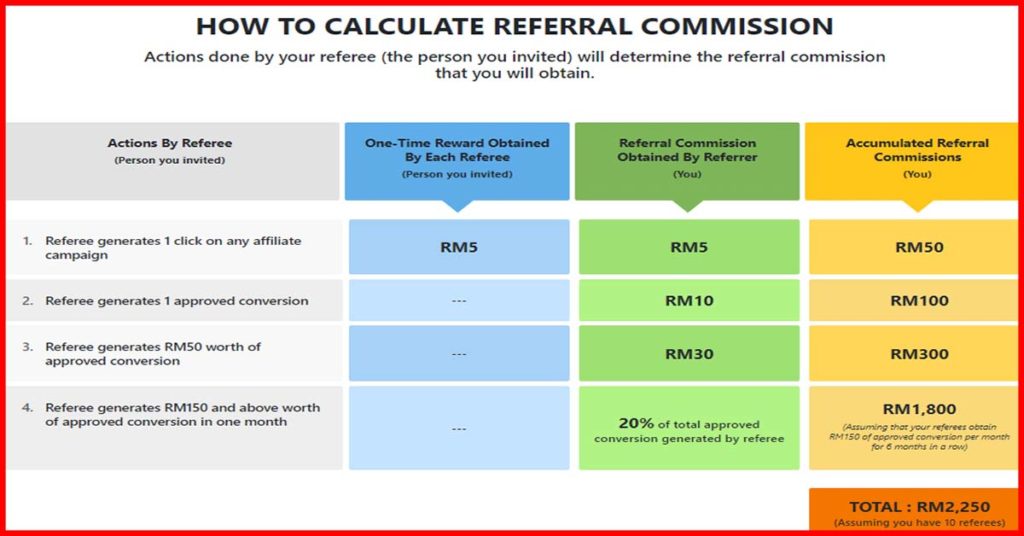 The first three are a one-time commission; the fourth is that as long as the inviter has a commission of more than 150 MYR that month, you can get 20% of the total commission.
Can You Really Make Money Using ACCESSTRADE?
Here I have a few real case studies of young ladies who make money online from ACCESSTRADE affiliate marketing.
Case Study 1: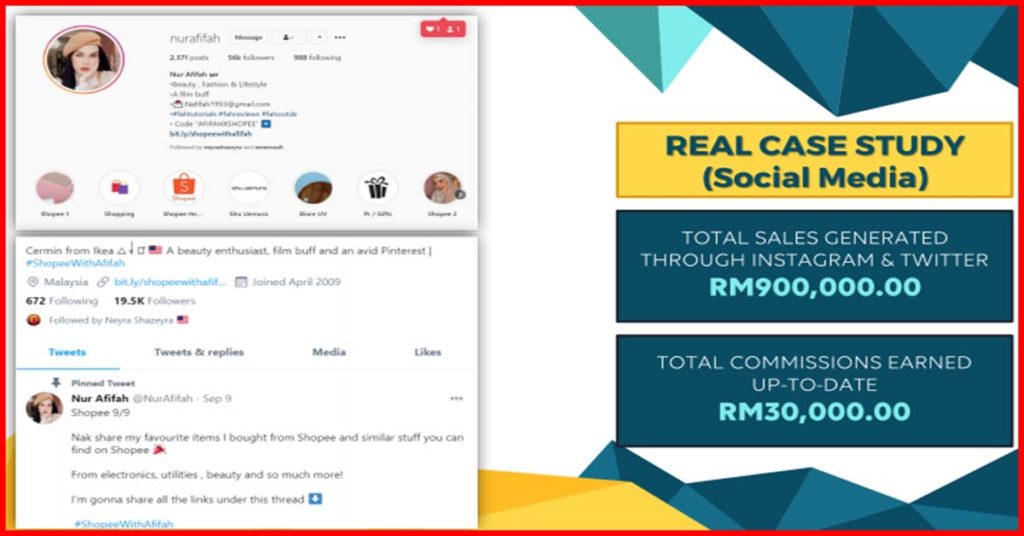 Ms. Nur Afifah started joining ACCESSTRADE in March 2019, and she has to date made 30,000 MYR. In an interview with ACCESSTRADE, Nur Afifah stated that keep relevant and active on social media platforms (e.g. Instagram and Twitter) are very important. She often publishes articles on Instagram and Twitter including sharing her lifestyle and beauty products (included recommended products she had tested and liked), and while interacting with her followers from time to time.
Case Study 2: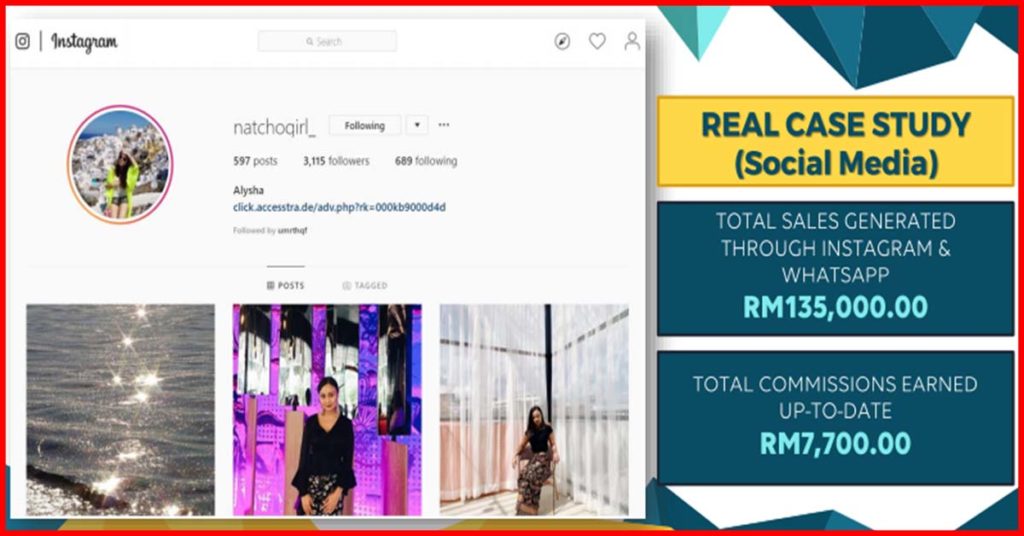 Ms. Alysha has created more than 135,000 MYR in sales for ACCESSTRADE advertisers through Instagram, WhatsApp and various group chats. So far, she has earned a total commission of 7,700MYR for herself.
Conclusion
Affiliate marketing is one of the best options for making money online, especially as passive income for yourself. The ACCESSTRADE Malaysia platform can provide you with partner links (various merchants) that can be used to increase your income.
All you need to do is to register for a free account, select the campaign you are interested in, get your affiliate link, and start promotion!