ACCESSTRADE SUMMIT 2023, The Global Summit Where Top Advertisers and Publishers from Japan and Southeast Asian Countries Gather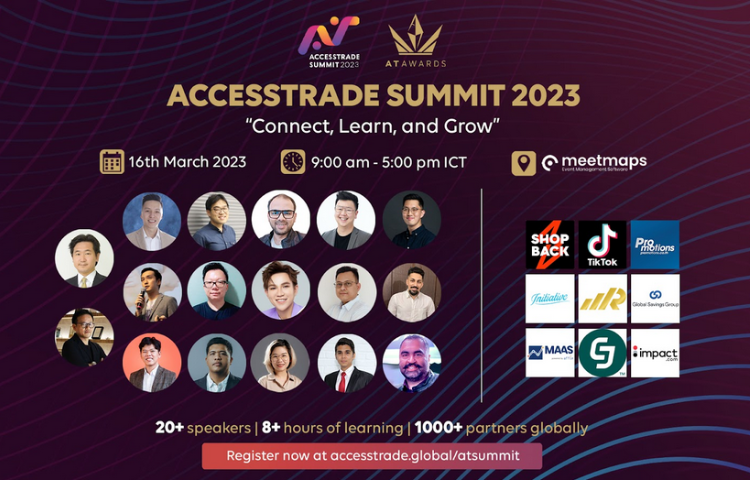 Since 2017, the global affiliate service ACCESSTRADE has been holding an annual global conference ACCESSTRADE SUMMIT to promote healthy growth in the market with connecting, learning, and business opportunities purpose.
The ACCESSTRADE SUMMIT 2023 was held on Thursday, March 16 2023 for digital marketing players in each country. Following last year's event, this year, the event was once again held online due to COVID.html situation, using the virtual event platform Meetmaps.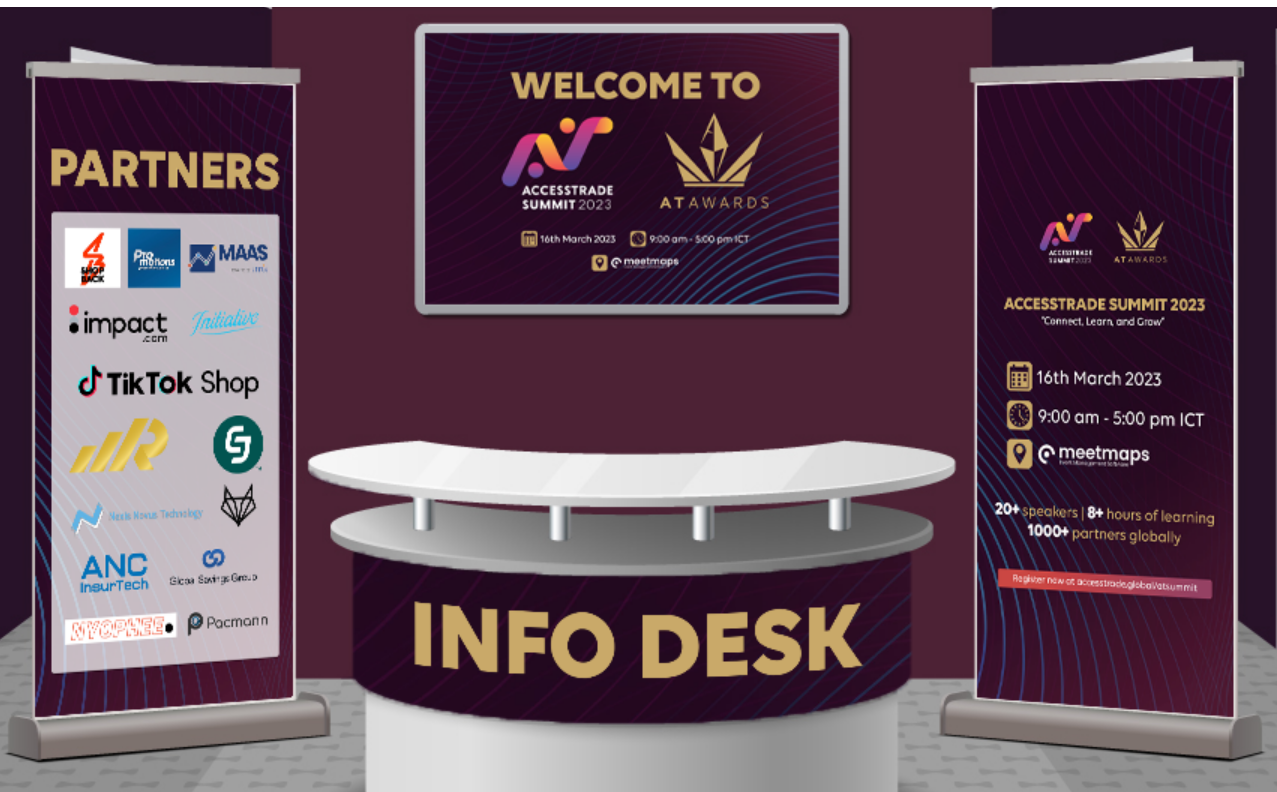 At ACCESSTRADE SUMMIT 2023, a total of 800 people from Japan and Southeast Asian countries (Indonesia, Thailand, Vietnam, Malaysia, Singapore) gathered together, including Top Advertisers, Publishers, Digital Marketing Agencies and Solution Providers. Speeches and panel discussions were held, talking on future performance marketing strategies with a wide range of topics, including AI, Finance, Key Opinion Consumer (KOC), E-commerce, Content Production, SEO, and Affiliate Fraud measures.
ACCESSTRADE SUMMIT 2023 starts with two keynote speeches. First of all, Shohei Fujita, Managing Director of Global Business of Interspace Group, delivered a speech on the Performance Marketing Industry and Future Trends in 2023.
For the first keynote speech, Ganesh Jaju, Director of Data Science and Client Development at COMMISSION JUNCTION (CJ), highlighted the evolving customer behavior under the theme of "Affiliate Marketing Trends in 2023, Personal Connections Between Influencer and Publishers". By leveraging affiliate marketing, advertisers can expand globally and increase their global connections, leading to improved EC site purchase rates, average customer unit prices, and revenue per customer.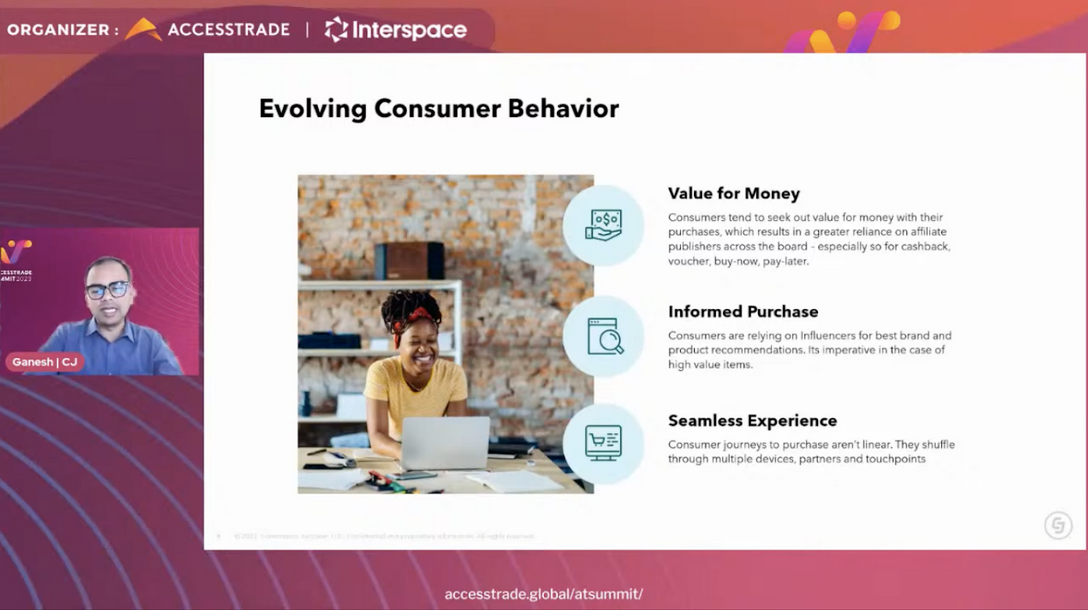 In the second keynote speech, ShopBack's Co-Founder, Joel Leong talked about how he faced difficulties at the start of his business and succeeded in his third attempt through trials and errors. ShopBack has grown from a simple model of 'shopping online gives you cashback' to a one-stop shop where you can now buy variety of products, serving markets and 35 million users in 10 countries around the world. Mr. Leong's speech was also very valuable for those who wanted to start a business or grow their existing businesses.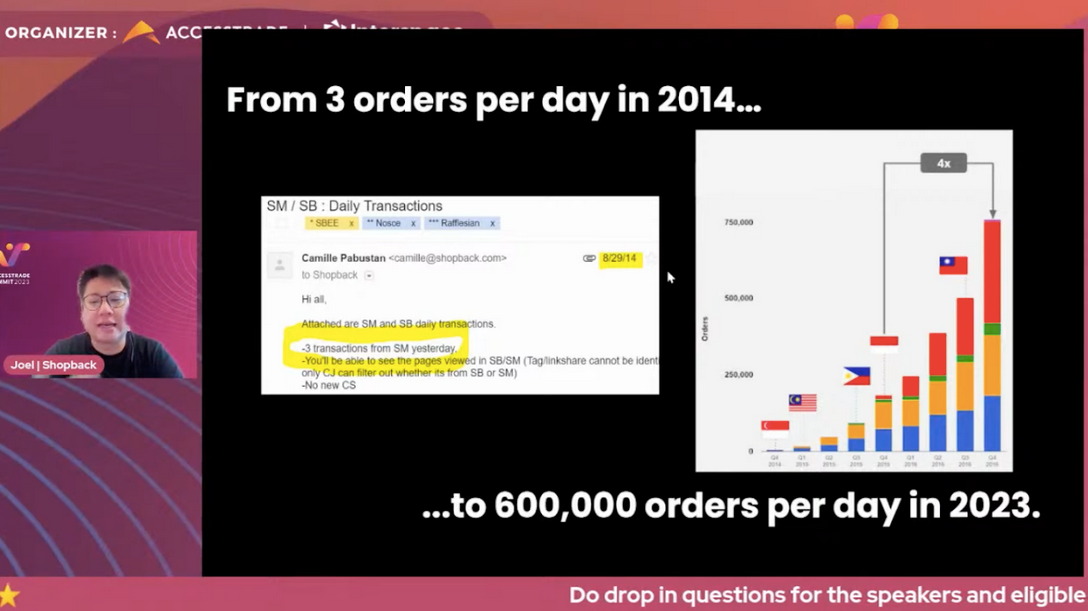 Following the keynote speech, panel discussions were held by experts from the digital industry to discuss various topics related to affiliate marketing and performance marketing.
Top experts and corporate leaders discussed topics in various fields: KOC - The New Strategy for Social Marketing, Fraud Management Strategies in Affiliate Marketing, Opportunities and Challenges for Financial Services, and Future of Artificial Intelligence (AI) on Content Marketing. In "KOC - The New Strategy for Social Marketing," Tina Tran and Daniel Nguyen of TikTok Shop Vietnam, Châu Mu?i, second in ACCESSTRADE Vietnam's KOC, and D?ng Bùi, General Manager of Interspace Vietnam, each used KOC (Key Opinion Customers) to share new marketing experiences.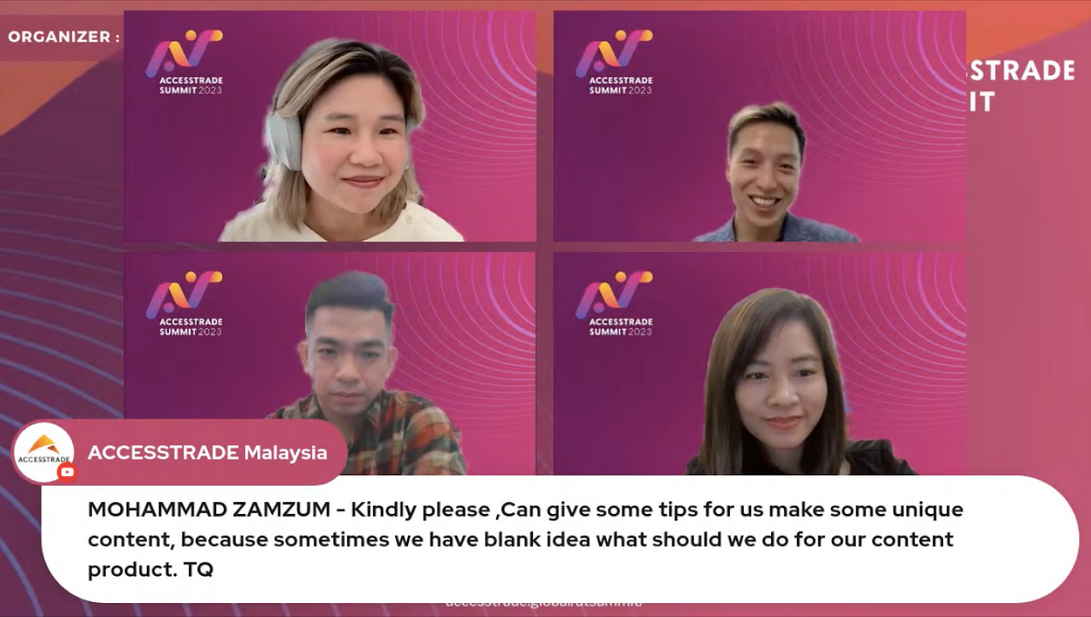 Discussions in Southeast Asia by country began in Indonesia. Various topics were delivered such as Indonesia's Future of Affiliate Marketing, Thailand's Understanding of SEO Keywords for Conversion, Malaysia and Singapore's High Converting Content Creation Strategy and Importance of Data-Driven Strategy to Optimize Content Marketing Initiatives, Vietnam's KOC Generation - The New Future of E-Commerce
In the last session, KOC Vietnam 2022 Champion, Vu Duy gave a speech. Duy shared expertise based on his own success stories in how Key Opinion Consumers (KOC) is rebuilding the e-commerce industry and creating new opportunities for businesses to connect with consumers.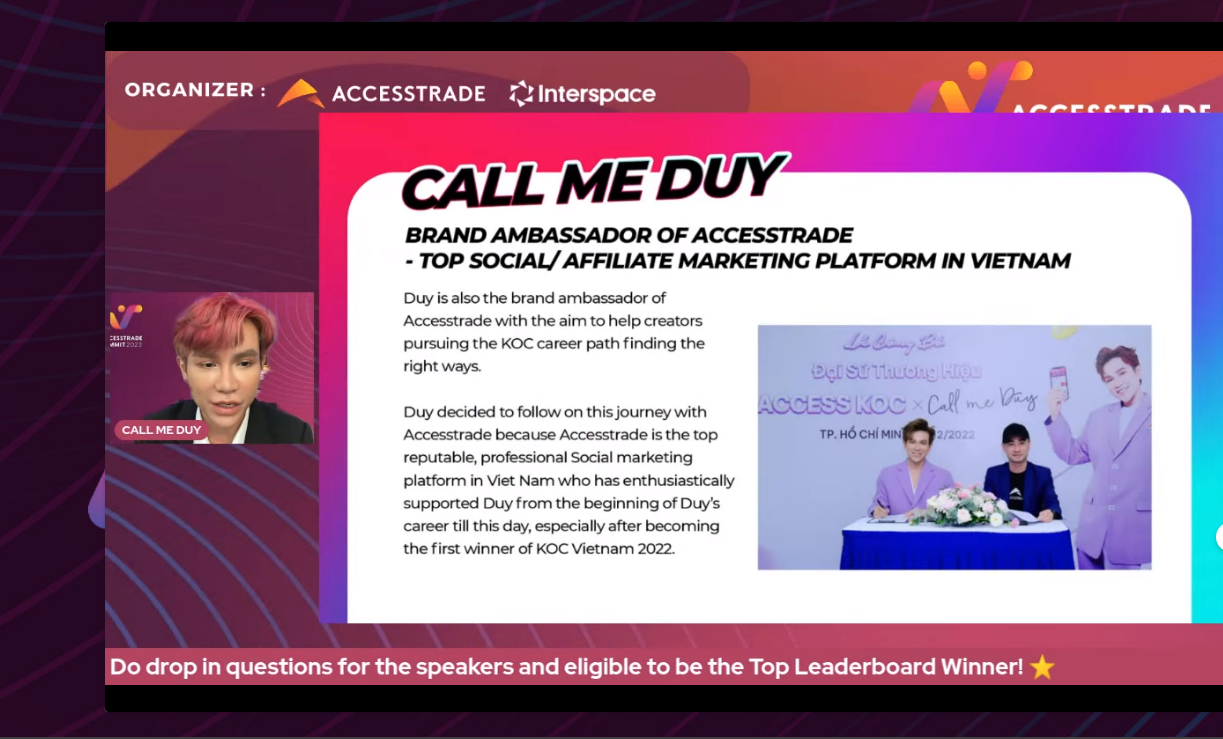 Move forward, ACCESSTRADE AWARDS 2023 was opened by greetings from Shinichiro Kawabata, the Founder and CEO of Interspace Group, who announced and presented all the top advertisers and publishers who won awards in each country. Once again, congratulations to all the winners!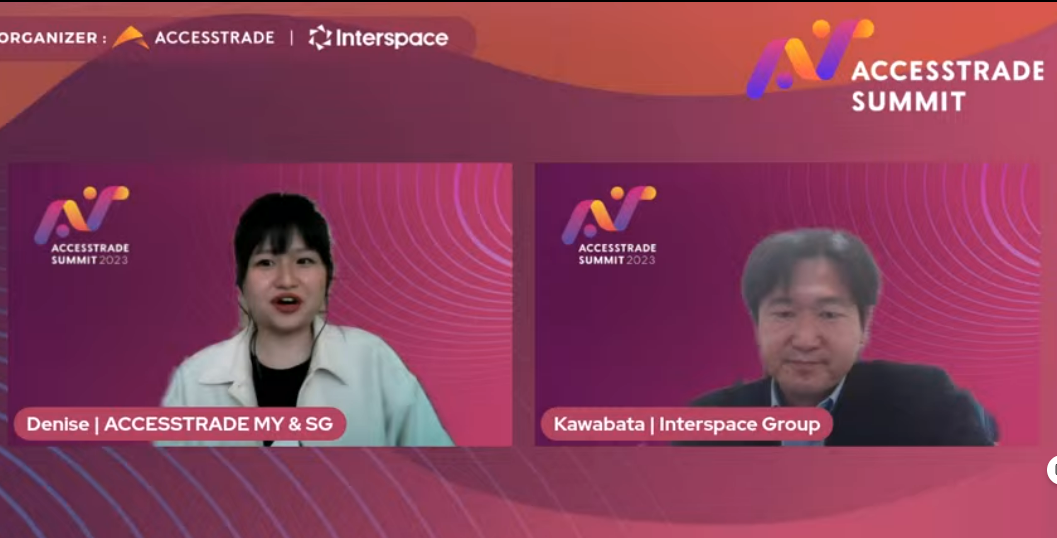 In Southeast Asia, under the slogan "GO TO TEN", ACCESSTRADE aims to gain 10% market share through affiliate marketing in digital advertising, and we are doing business in each country.
ACCESSTRADE SUMMIT 2023 has become a valuable opportunity for digital experts in affiliate and performance marketing to share their insights and experiences. The event was attended by many people from around the world, introduced the latest trends and strategies in the industry and awarded advertisers and publishers for their achievements. As an affiliate leading company, ACCESSTRADE will continue to build better relationships with advertisers and publishers, and together we will greatly expand the overall digital advertising and affiliate market.
(This article was originally posted on Interspace Japan Official Website https://www.accesstrade.ne.jp/)